A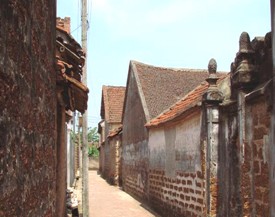 journey to Duong Lam village is a trip to trace back the origin of Vietnam's culture and Vietnam's traditions. This is also the great chance explore architecture of ancient houses while wander along its narrow alleyways, visit temples dedicated to the two kings born there, and most interesting of all, chat with locals living in the ancient houses.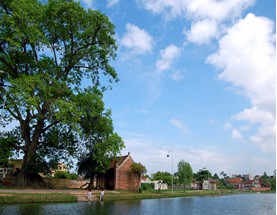 Leave your hotel in Hanoi about at 08:00 am and travel to west of Hanoi to Duong Lam village, a purely agricultural village of the Northern Red River delta where still preserve many hundred-year-old houses. Upon arrival, walk along tiny ancient alleys to visit Mong Phu temple in Mong Phu hamlet - the only hamlet whose original village entrance gate remains intact, dedicated to national heroes. Continue walking around the village to discover the daily life and farming working of Vietnamese peasants along the terrace with a stop in two ancient houses: the biggest ancient house was build 200 years ago and the most ancient house back to 400 years ago.  Have a lunch.
After lunch and resting, visit Ngo Quyen temple and Phung Hung temple, places dedicated to two national heroes Ngo Quyen and Phung Hung. Again biking to visit Mia Pagoda (other hamlet in Duong Lam village), is built in 15 th century and admire 287 statues of all sizes, among with are famous sculpture such as the statue of Buddha in the Himalayas and the statues of the Eight Vajra Deities. Drive back to Hanoi. Tour finishes about 5:00 pm.

  The end of tour!

Tour cost:
 Number in Group
 Price per person in US$
 Request tour
 1 pax
 2 pax
 4-6 pax
 7-10 pax
 Price
95USD
60USD
 50USD
 45USD
Included:
- Private car
- English speaking guide
- Lunch
- Entrance fees
Excluded:
- Tips
- Personal expenses